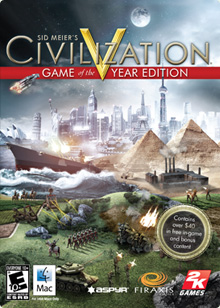 Practice your best battle cry in preparation for the expansive strategy game releasing today for Mac, Sid Meier's Civilization V: Game of the Year Edition.
The title allows you to recreate history through epic battles and victories. The goal, of course, is to build your society into the world's greatest imperial power. Using turn-based tactics, you are able to move throughout the land, conquering city-states to claim as your own. Choosing between 18 historical civilizations means addictive and endless game play throughout a variety of realistic landscapes, which may lead you to wonder, three hours later, where the time went.
The Game of the Year edition is newly updated with tons of bonus and digital content, including:
All 4 Cradle of Civilization Map Packs (Mediterranean, Asia, Americas, Mesopotamia)
Civilization Pack: Babylon (Nebuchadnezzar II)
Double Civilization and Scenario Pack: Spain and Inca
Civilization and Scenario Pack: Polynesia
Civilization and Scenario Pack: Denmark- The Vikings
Explorer's Map Pack
Imperialism has never been so much fun. Expand your empire today!